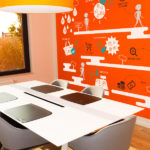 E-commerce and digital marketing practice
Finally a consultancy that focuses on your e-commerce, communication and digital marketing activities. On a yearly basis, no less.
The Right Move offers useful communication tips and helps you devise an e-commerce website or a showcase website. Our consultancy keeps close track of your growth and also keeps an eye on your operational management.
We are one of the first e-commerce web agencies in Belgium. Although other technical agencies have gone before us, specializing in particular "technical e-commerce" tools (e.g. Magento, Prestashop), so far no other agency has offered what we offer: advice on commercial strategies and the implementation and operational follow-up of e-commerce platforms.
What do you mean, a practice?
The Right Move has chosen to position itself as a practice or consultancy, because just like lawyers provide legal counsel, TRM aims to assist its clients throughout the entire year.
First off, a practice is not a web agencyWhether an agency specializes in development, design or web marketing, it often simply provides its services for one particular occasion or one particular project. Usually, this results in a project with a limited focus on follow-up.
In contrast to this approach, The Right Move is much more customer-oriented. With us, you get assistance with various issues concerning sales or name recognition, to name but a few. Where traditional web agencies stop as soon as they finish your e-commerce or showcase website, this is where we just begin.
Read more on how we work
What can The right Move do for me ?
Our primary objective is to assist our clients in their growth targets. We ensure the continuity of your communication plan and the online positioning of your e-commerce or showcase website.
The Right Move has a commitment to its clients and staff that is based on three keywords:
A relationship that is based on honesty and mutual respect, from start to finish. TRM does everything in its power to work in a socially responsible way, whether this involves our own relationship with our clients, or the relationship between employers and employees, customers and suppliers, or society and the government.
Each client, each employee, each supplier is a partner whom we join in their path through life. The human factor is essential to us, as is a thorough respect for the laws and regulations of our community, in the widest sense of the word.
We always assume that you are more of an expert in your field than we could ever be. That is why we aim to combine our expertise with yours when we design your e-commerce or showcase website: ergonomic, coherent in its communication, and ranking high in Google search results.
More than anything, each project is the result of teamwork. Teamwork with our clients, between our clients and our staff, but also between our clients themselves.
In some cases, TRM may also act as a liaison between its clients, thus promoting collaboration between non-competing online businesses.
We base ourselves on values that can actually be measured. Our efforts will always be aimed at a particular return on investment.
If we do not believe in the success of a particular e-commerce or showcase website or digital marketing strategy, we simply will not start working on it. It is exactly at this point that we take up our role as an adviser.